Second Chance Thrift Shop, Manager
Cai Lepre has managed Second Chance Thrift Shop since 2013.  She was originally from the San Francisco Bay Area.  She moved to Mammoth Lakes in 1982 and has called this home ever since.  Professionally, she has worked in the music business, print and runway modeling, tourism, interior design, real estate and sales and marketing.  Her hobbies are hiking, dancing, fishing and skiing. She's involved with volunteering for many organizations in the Mammoth Lakes community. Her son, Jesse, was born in Mammoth Hospital in 1986 and her daughter, Kalyn, was born in 1988. She raised both her children in Mammoth Lakes. She brings both her personal and professional experience to Second Chance Thrift Shop.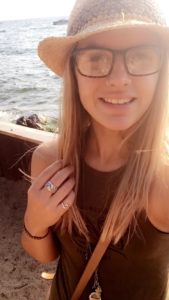 Sadie Jane Assistant Manager
Sadie Jane is the assistant manager at the Second Chance Thrift Shop. She started working with the organization in 2017. Being able to work for a great cause & giving back to the community makes this a perfect fit of a job for her!
Originally from Arizona, she flew out to Mammoth in 2014 to meet her partner who also is a part of the Second Chance team. Ever since she has made Mammoth Lakes her forever home.
Summer is her favorite season. Enjoying hiking, exploring local spots, and spending time with her dog & partner.